Tech Trek Summer Camp for Seventh Grade Girls Comes to New Mexico for the Fifth Year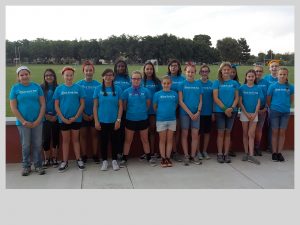 Tech Trek NM, a residential summer camp focused on Science, Technology, Engineering and Math (STEM) for ascending 8th grade girls, was conducted on the campus of New Mexico Tech in Socorro June 10-16, 2018, sponsored by the American Association of University Women New Mexico. 
2018 Albuquerque Campers:
Olivia Cole, Jefferson MS
Vanessa Doyle, Menaul School
Sopia Finale and Jayden Giersch, The Montessori School
McKenna Guidice, Madison MS
Claire Gunderson, Sandia Prep
Violet Kelly, Cottonwood Classic Prep
Mariel Leon-Lazcano, Pub. Acad for Perf. Arts
Le Andra Loya, N. Valley Acad
Isabella Lundahl, Desert Ridge MS
Elizabeth Martinez, SAMS Academy
Sarah Muller, 21st Century Acad
Gabrielle Olubiyi, MAS Chart School
Victoria Scott, Cien Aguas International School
Fallon Setter, St. Mary's ABQ CS
Participants were nominated by their science or math teacher, students completed an application and interview process before final selections were made in early April. Cost for the camp was only $50 per student, as the program is funded by AAUW-NM as well as by New Mexico businesses and individuals. 65 girls were chosen from across the state of New Mexico to attend the camp, where they gained first-hand knowledge of real world applications of STEM in a fun-filled, hands-on college environment. Campers participated in one of five core classes each day and participated in hands-on field trips and workshops for exposure to several STEM fields. Core classes were: A Tour of the Stellar Cycle of Life (Astronomy), App Creators (Computer Science), Girl Powered Robot! (Robotics), Gear Girls—A Motorized Toy Challenge (Mechanical Engineering), and Forensics (Chemistry). Campers also interviewed women in STEM fields at a Professional Women's Banquet Wednesday evening. More information is located here: http://TechTrek-NM.aauw.net.
The camp builds on AAUW's research report Why So Few? Women in Science, Technology, Engineering and Math which identifies camps like Tech Trek as increasing girls' interests in STEM fields. Girls benefit greatly from exposure to STEM role models, knowing that they, too, can excel in these fields.
Funding was provided by Sandia National Laboratories, NM PED, Honeywell, Raytheon. El Paso Electric, Walmart and LANL Foundation.
Thank you to all AAUW members and their families who contributed to Tech Trek this year, with time, energy, and support, as well as finances!
9-12-2018