The Economic Impact of COVID-19 on Latinas in the U.S.
"The lived experiences of Latinas are rarely at the center of policy reform considerations. Instead, Latinas are too often the invisible constituency. This is in large part due to insufficient research specific to Latinas. And this leads to the failure to appropriately demonstrate the significant role Latinas will play in the economic and political emergence of the Latino community.
The upcoming election and the first 100 days of the incoming administration in 2021, present timely opportunities to inform politicians, policy makers, and the general public about the state of Latinas in the United States. Today, Latinas comprise 18% of the U.S. female population, constitute the largest number of female minority eligible voters, and are a critical base of support to the U.S. economy. Yet, Latinas are among the most vulnerable workers, have the lowest median earnings of all males and females groups, including racial and ethnic groups, and experience disproportionate levels of poverty. COVID-19 has compounded these existing economic disparities for millions of Latinas, and even more so for those that are undocumented or live in blended status households."
Latinas represent about 24% of the New Mexican population; and, Latinas here, as elsewhere, are disproportionately affected by Covid-19. Latinas' in 2021 is October 21st demonstrating the economic impact on families and the New Mexican economy.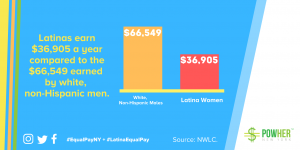 Status of Latinas in the United States during Covid-19 Join us to hear about a new collaboration focused on the status of Latinas and the impact of the pandemic on their economic security and well-being. We discuss AAUW's actions to address systemic workplace disparities, increase wages, promote paid sick and family leave policies, and make health care available to all workers. Webinar sponsored by GEICO.
03/2021